Discover more from Desire Paths
A newsletter about the lesson-filled lives of fascinating people. And other good stuff.
Over 1,000 subscribers
Diversion #2: Courier's new look (and other good stuff)
Including a taco tour, a musical legend, product recommendations & more
I've been wanting to give Desire Paths subscribers more of a personal touch beyond the deep-dive interviews. So starting today, you'll get a roundup of GOOD STUFF every other weekend: businesses and things on my radar, short profiles of cool people, links to what I'm reading, photo essays, honest recommendations. I'll call these weekend emails Diversions. I hope you like them. Let me know!
Then, as usual, a few times a month you'll get the juice, the meat—a BIG INTERVIEW with someone who's doing or building something incredible. These are called Paths.
In this edition…
The unbelievably good new issue of Courier

Meet Arthur, the 86 year-old musical legend

A (very brief) LA taco tour

Readings, recommendations & more
---
1. Courier's new thing
I work at Courier magazine. That's my day job and has been since 2017. I presume that's how many of you know me and why you subscribed to this newsletter in the first place. I got here all those moons ago after jumping ship from Monocle, where for 6+ years I lived on planes and bounced around a Monocle-y archipelago of places like Bangkok, Davos, Taipei and Antwerp, sticking podcast mics in the faces of entrepreneurs, ambassadors and other characters. It was wild and fun and rewarding, where I spent the formative years of my career, but at some point I caught sight of this thing called Courier—a newspaper-ish mag about businesses, but cool businesses, and stocked for free almost exclusively at indie cafes and co-working spaces in east London. I loved it.
Courier in those days had a tiny crew, scrappy culture, huge promise and a mission I could really get behind: telling authentic stories of modern business. Instead of puff pieces about the same 10 VC-backed Stanford tech founders like some other biz mags, Courier wrote stories of normal mortals quitting their cubicle jobs to launch something worthwhile and profitable, with advice on how you, the reader, could do it too. (We still do this, by the way). I joined and hit the ground running.
Six years later. A tiny loft in Shoreditch to professional digs on Hackney Road. Deputy Editor to Editor to Editorial Director to now Editor-at-Large from my perch in LA. Two acquisitions, first to Mailchimp and then to Intuit. And countless mag issues, print guides, podcast episodes, events, email newsletters and fat hardcover books. It's been a journey.
And yet, our latest thing might even be the best. A few weeks back, I spent 48 hours in London to celebrate the launch of issue number 50, which was developed by a small, incredible team in our London office. The mag's been ripped up, redesigned and reengineered. Made more relevant and fresh, to an almost unbelievable extent. It's very different, but still very Courier. A hard thing to pull off.
When I held it in my hands at the party, which also marked our 10 year anniversary, all I could say is damn.
It takes a village to make a magazine and the Courier team are the best around. Bravo to everyone who made this a reality.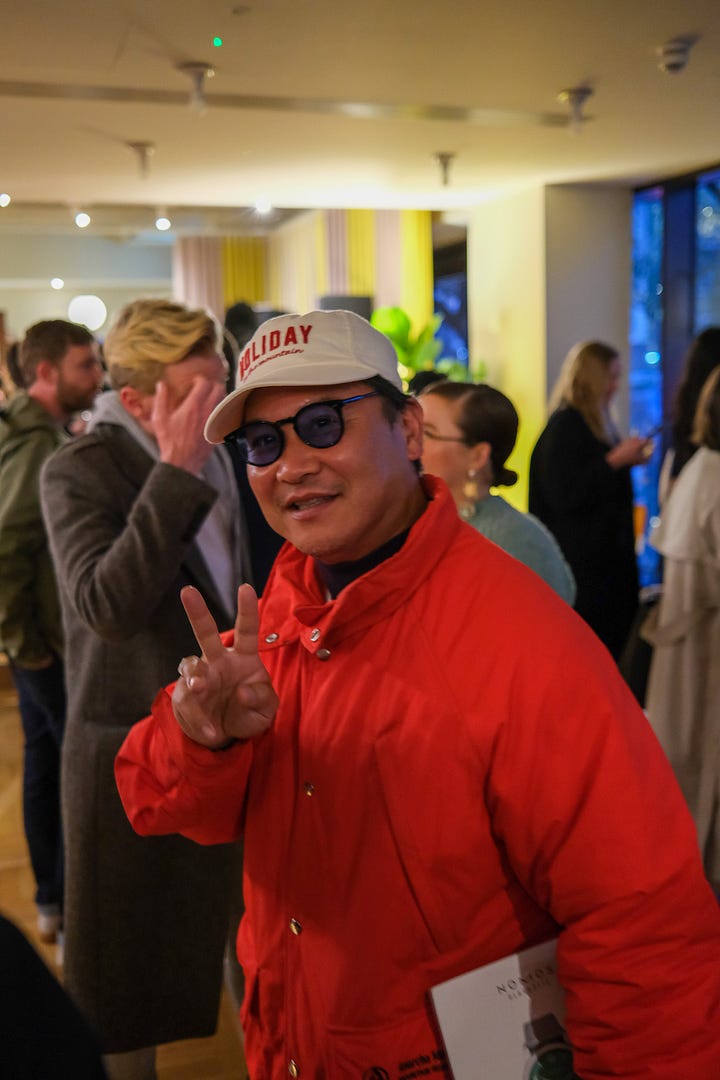 In the coming weeks, a bajillion stores around the world will stock this issue. (Okay, just the good ones). You can also buy a copy at Courier's webshop. Or if you see me in LA, I've got a big box of them in the trunk of my car and can give you a good deal…
---
Desire Paths is a free newsletter about the wild, winding, lesson-filled lives of fascinating people. I'd love if you'd consider subscribing or sharing with a friend.
---
2. A chance encounter
Last weekend I was with Kim at Descanso Gardens, a 150-acre oasis of flowers, streams, fruit trees and forests in LA. It's a botanical garden. A beautiful place. Nature, tamed. After a while of exploring, Kim went to read a book in the rose garden and I got lost in the 'ancient forest', or what looked like a Jurassic Park set.
On my way back, an elderly Japanese man in a motorized wheelchair and a Japangeles sweatshirt rolled up to me. He introduced himself as Arthur and told me about the wonders of Descanso. How the flowers are gorgeous, unlike anywhere else. He pulled out an iPad. Look at these flowers! He scrolled through album after album of flowers and family. How much did you pay to get in here? he asked. Did you come alone? $15—and no, I'm with my wife. What a deal you're missing out on! Arthur said. He told me about Descanso's membership program and how much money I could save by joining.
At this point, I wasn't sure where this was all going—am I about to join a cult? buy a timeshare? give this man a cut of my inevitable life membership to the gardens?—but Arthur was lovely and I was having a great time. Sometimes, you talk just to talk.
After 15 minutes, it was time to go. Arthur and I said our goodbyes.
And then I noticed a little bag around his waist, with a stack of handmade business cards inside. So I asked for one.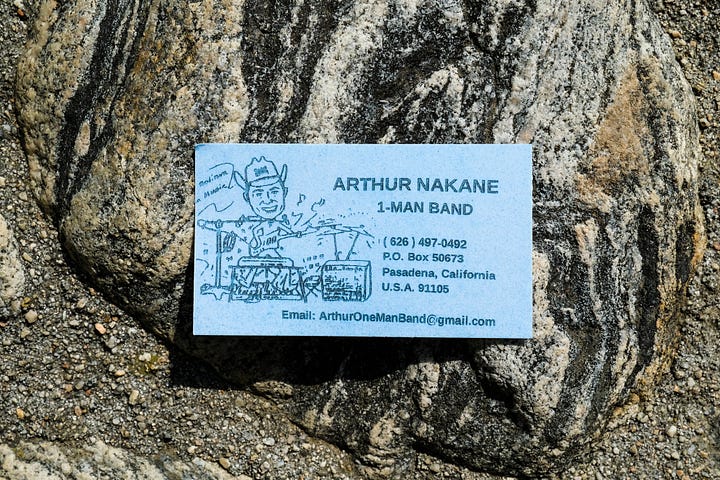 It turns out Arthur isn't in botanical garden membership sales. He's also not just some random kindly old man.
He's 86 year-old Arthur Nakane, an internet-famous one-man band, the subject of a documentary, a 2010 contestant on America's Got Talent, and a man who's had a pretty incredible life.
He's prolific. Per Wikipedia:
He sings over 1,000 songs of various genres including pop, rock, oldies (including 50 songs by Elvis and 40 by the Beatles), standard, traditional, folk, country, western, Latin, Hawaiian and Japanese. He sings in English, Japanese and Spanish. In addition, he is also known for his famous song, "Anderson is the Best", where he made top 85 on America's Got Talent.
Come see me in Little Tokyo one day! Arthur said, smiling. Then he wheeled away.
I was so delighted by the entire interaction that I had a big smile on my face, all the way on my walk back to Kim and the roses.
Where have you been? she said.
You'll never guess what just happened…
---
3. The value of a good guide
My buddy JJ Figueroa and I went to college together in upstate New York. A bit after graduation, I shipped off to London, while JJ moved to San Francisco. As luck would have it, we're both now living in LA. JJ's from here and we're making up for 15 years of lost time. Like going on taco tours. A mutual friend was visiting from overseas a few weeks ago and we wanted to treat him to some of LA's finest. So we went to Boyle Heights. Despite JJ's day job in tech/sales, the dude should really have a side hustle as an LA taco guide. He knows his stuff.
There's nothing like a passionate local to show you around. It's a game changer.
2810 E Olympic Blvd, Los Angeles, CA 90023
JJ: "These are tacos made in a large batch, very, very small and steamed in a basket. Hence the name tacos de canasata (tacos from the basket)."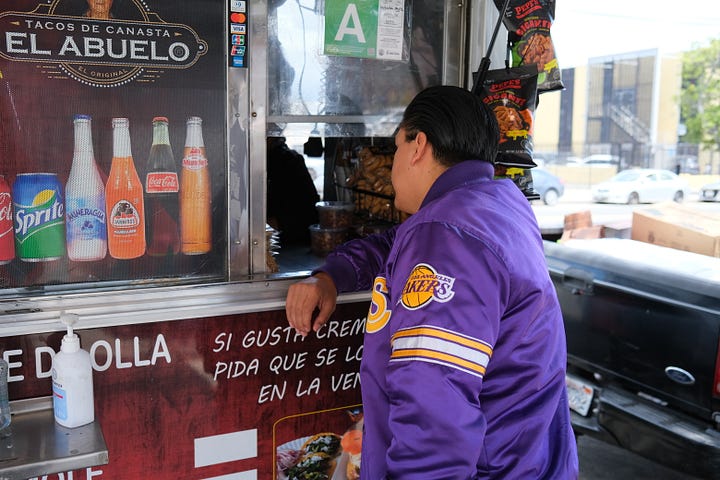 2811 E Olympic Blvd, Los Angeles, CA 90023
"These are phenomenal. Don't let the burrito name fool you. They are burritos from Zacatecas but more like a large taco. So you can try more than one meat."
3040 E Olympic Blvd, Los Angeles, CA 90023
"The classic shrimp taco spot. They are the legit kings of LA in that category."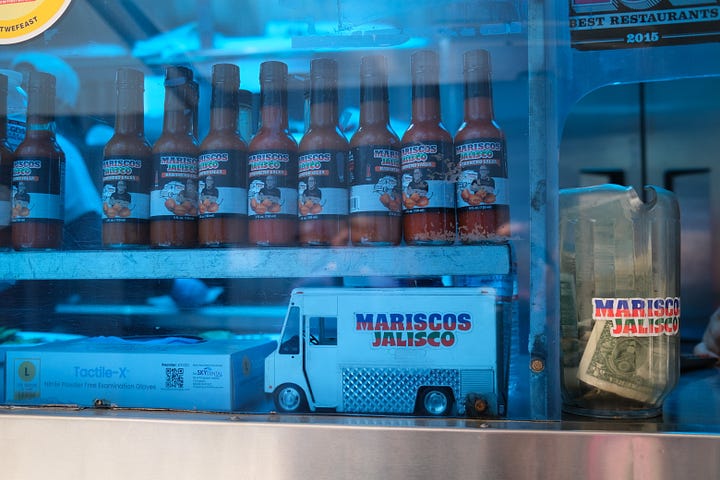 Mariachi Plaza, Los Angeles, CA 90033
We ended with some top Mexican coffee, pastries and people-watching in Mariachi Plaza, where for years mariachi musicians have historically hung out, hoping to be hired by restaurants, events and regular joes.
The fact that LA has places like this makes me love the city even more.
---
4. Recommendations
Stuff I'm loving lately.
5. Final thoughts
1. Check out the story of Gregory Ruppe, a surfboard shaper in Texas… 4+ hours from the ocean. Per Texas Monthly:
'When pandemic lockdown began and all art events were placed on hiatus, the artist, who has served as the director of exhibitions for the contemporary art space the Power Station since 2013, found himself landlocked by travel restrictions. Desperate to be out on a body of water, he crafted his own wooden paddleboard to use on local lakes. "With a long history of woodworking and a stubborn DIY attitude, I made my first ten-foot paddler," says Ruppe. That act reignited an interest in both research and object-making. He quickly switched to producing surfboards as Picnic Surf Shapes.'
I also love his website.
2. There are lots of unfinished, empty concrete buildings in West African cities. To do something productive with them, Haitian-​Ghanaian designer Dominique Petit-Frère launched the spatial design company Limbo Accra. Very cool.
3. And I just learned that the 10,000 daily steps thing is total bullshit. And the reason why is hilarious.
'Yet the concept of taking 10,000 steps a day to maintain health is rooted not in science but in a marketing gimmick. In the 1960s a company in Japan invented an early pedometer. Because the Japanese character for "10,000" looks like a person walking, the company called its device the 10,000-step meter.

"It was just sort of a catchy phrase," says I-Min Lee, an epidemiologist at Harvard Medical School and Brigham and Women's Hospital in Boston. Taking that many steps daily is challenging but doable for many people. "Sure, if you get 10,000 steps, it seems like a good goal. But there was not really any basis to it."'
Perfect. No notes.
UNTIL NEXT TIME,
Thanks for reading Desire Paths! Subscribe for free to receive new posts and support my work.